When the foundation of a case is being laid, you are going to want to think about both the brief and appellate oral arguments. Oral argument is, for most cases, the only opportunity for the lawyer handling an appeal to interact with the judges or justices who will be deciding the case. It is essential to approach this interaction with thorough preparation, anticipating the kinds of questions the court may have, and preparing to address any of the perceived weaknesses of the case.
Preparation is key, and experience offers confidence in where to allocate preparation time and resources. However, it should be noted that oral arguments are used in certain circumstances and that the majority of appeals are won through written documents.
This is why going with Gusdorff Law for your appellate litigation matters is a must. We are a law firm that values oral argument and leverages our experience to always put our best foot forward on your behalf. This should help provide peace of mind when it comes to arguing your position in court.
For those trial lawyers who love to argue, we understand! We can help guide you in your oral argument preparation by preparing a mock argument and help direct you to identify and address your blind spots. This is but one way our appellate consulting helps our clients achieve the best possible outcome.
To have good legal representation when it is time to fight your case, Gusdorff Law is the right fit. We are readily available at 818-877-4515 for those who want the best.
What is the Difference Between Oral Arguments in a Trial vs in an Appellate Court?
It's common to want to compare oral arguments in different types of legal proceedings. One obvious difference between trial arguments and appellate arguments is the audience. In the appellate court, multiple judges or justices decide the case and ask the questions. This creates a unique dynamic during an argument because the judges often ask questions to address concerns or to convince their co-judge or justice of a position.
Additionally, by the time the argument is held, the judges are usually well-versed in the record and the legal briefs submitted by both sides. Their questions are typically extremely targeted on nuances and often implicate larger policy.
In contrast, at the trial level, due to the number of cases and legal issues thrown at each judge, arguments may serve as an opportunity to help distill written arguments into short-takes and to bring the trial judge up to speed on issues occurring in the background. Additionally, the trial judge often focuses on evidentiary issues and how to fairly offer the litigants the opportunity to present their case in a full, but efficient way. Appellate judges, on the other hand, do not have such concerns.
If you anticipate your case proceeding to an oral argument, you will want to speak to a trusted law firm such as Gusdorff Law. We can help with all types of oral arguments, as well as each stage of the appeal.  If you want our help, please give us a call at 818-877-4515.
When is an Oral Argument Needed in an Appeal?
The oral argument is typically your final opportunity to convince the appellate court to rule in your favor. It is essential that you address any lingering questions or concerns the court may have about your arguments. Gusdorff Law will help you do so, effectively.
If you want help with your oral argument, this type of legal representation, call us at 818-877-4515.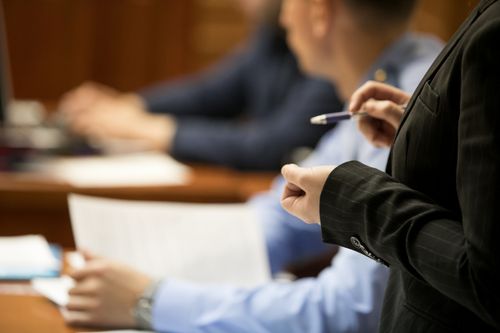 Why Should I Hire Gusdorff Law for Appellate Oral Arguments?
We have experience handling all aspects of preparing for and conducting oral arguments before the California Courts of Appeal, California Supreme Court, and Ninth Circuit Court of Appeals. Effective oral advocacy is akin to an iceberg; the hearing is only the visible part. However, effective advocacy depends on a host of factors that are rarely visible, but require substantial time and attention:
Preparation
Continuing to hone our oral advocacy skills
Keeping updated on changes to the law while the appeal is pending
And more.
We understand that effective oral advocacy begins long before the briefs are filed and our experience and knowledge make Gusdorff Law a good fit. For more on how we can help with your oral argument, please give us a call at 818-877-4515.
Contact Gusdorff Law Today to Schedule a Free Case Review
Do not underestimate the importance of effective appellate oral advocacy. For more on how Gusdorff Law can help you prepare for oral argument, or how we can effectively handle your argument, please take the time to give us a call at 818-877-4515.