Defective products can lead to catastrophic injuries. Product liability trials involve complex issues, competing experts, and a legal framework that sometimes is misapplied or misunderstood by a jury.
If you did not achieve a successful outcome in your product liability case, an appeal can provide relief. And if you did succeed, you will likely be dragged into an appellate court by the retailers, manufacturers, or distributors.
Either way, you need an experienced and dedicated Los Angeles product liability appellate lawyer.
Janet Gusdorff of Gusdorff Law has extensive experience with complex multi-defendant tort trials. Our firm understands and can successfully navigate through the unique legal issues faced by product liability plaintiffs.
We understand that every case is unique. At Gusdorff Law, we take pride in our thorough command of the law and our persuasive advocacy.
If you or a loved one has suffered an adverse court ruling in Los Angeles or received a favorable trial verdict that you wish to uphold on appeal, consider contacting a Los Angeles product liability appellate lawyer for a consultation.
You can count on an appellate lawyer at Gusdorff Law to listen to your legal concerns, give an honest, timely, and realistic assessment of your case's legal merit, followed by unparalleled personalized legal representation.
The result is an efficient and cost-effective approach to your product liability appeal. Call an appellate litigation attorney at 818-877-4515 for a free and confidential initial evaluation.
Fighting for Your Rights
A Los Angeles product liability appellate lawyer at our firm will vigorously represent you in the California Court of Appeal or the Ninth Circuit Court of Appeals, and where necessary, the California Supreme Court, and the United States Supreme Court. Our services cover all stages of appellate practice, including:
Counseling clients on the appellate process and whether a judgment or order  should be appealed
Analyzing judicial decisions and trial transcripts to identify cutting-edge issues for appeal
Defend against, or prosecute substantive motions for appellate relief, including a petition for writs of mandamus, motions for stays or injunctions pending appeals, and requests for certification of questions of state law
Researching and drafting compelling appellate briefs
Planning and delivering persuasive oral arguments which convincingly cover the strengths and drawbacks of your product liability case
Can I Appeal My Product Liability Verdict?
If you lost in a product liability case in California, your lawsuit is not over until it's over. Most product liability cases end in settlement, but yours might be one of the few that makes its way to trial.
If it does, and you end up losing, you have an option to appeal the ruling. Gusdorff Law will give you an honest assessment of whether an appeal may be appropriate in your case based on your goals, needs, and resources.
Appeals differ from trials, and involve not only a mastery of the case but an understanding of its place in the larger jurisprudence of the state. While you may have the right to appeal, not every error should be challenged;
we can help you decipher the strong appellate issues from the rest.
Let's look at some questions you need to ask to figure out if you can appeal if you lose your product liability case:
Should I File a Post-Trial Motion of a Notice of Appeal?
There are certain instances in which the failure to raise an issue in a post-trial motion will waive or forfeit your ability to raise the issue in an appeal.
There are also instances in which certain information was omitted during the proceedings, and you need to make your "appellate record" by asking the judge to consider such materials.
Maybe the court made an incorrect legal ruling because the pace of trial prevented it from taking the necessary time to explore precedent. Raising the error directly to the judge that can correct it may save the time and expense of an appeal.
Sometimes there's new evidence that comes to light during or after trial.
Do I Still Have Time to Appeal?
Strict time limits apply for appealing civil lawsuits including product liability cases. You must file the notice of appeal within the set time limits. If you miss the deadline, your appeal will be dismissed and you cannot ask for more time.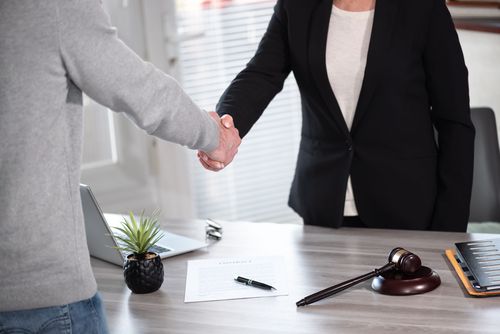 What Are Some Appealable Grounds?
To appeal a civil case in California, it's not enough for you to just say the judgment was wrong; you must be able to show why. Keep in mind:
The purpose of an appeal is not to retry your lawsuit. You can't ask an appellate court to hear evidence again to determine whether you should have won the lawsuit.
An appellate court can only set aside the judgment made by the lower court for reversible prejudicial legal error. For example,  the following reasons may provide successful appellate grounds in a products liability case:
Miscarriage of Justice
You may appeal a product liability, probate, real estate, or other civil cases on the grounds of miscarriage of justice. Examples of a miscarriage of justice include misconduct by the jury where a jury member was biased.
Other examples include a judge refusing to provide an interpreter for you and you do not understand English well, or in instances where there was misconduct by opposing counsel, or judicial bias.
Errors of Law
You may appeal the final decision of your civil case because of prejudicial errors of law made during the trial. We are knowledgeable in appellate law and will review all records to identify legal errors and their impact on the proceedings.
Appeal Requirements
You can only file your appeal in California if there has been a final judgment on your case or an appealable order entered. In certain situations, you can file an interlocutory appeal to appeal the trial judge's decision regarding an issue during an ongoing trial case.
In some situations, you must file certain post-trial motions to preserve your right to raise certain legal issues on appeal. In other situations, writ relief may be necessary. Gusdorff Law can help you decipher what approach to take, and when you need to act to preserve your or your client's rights.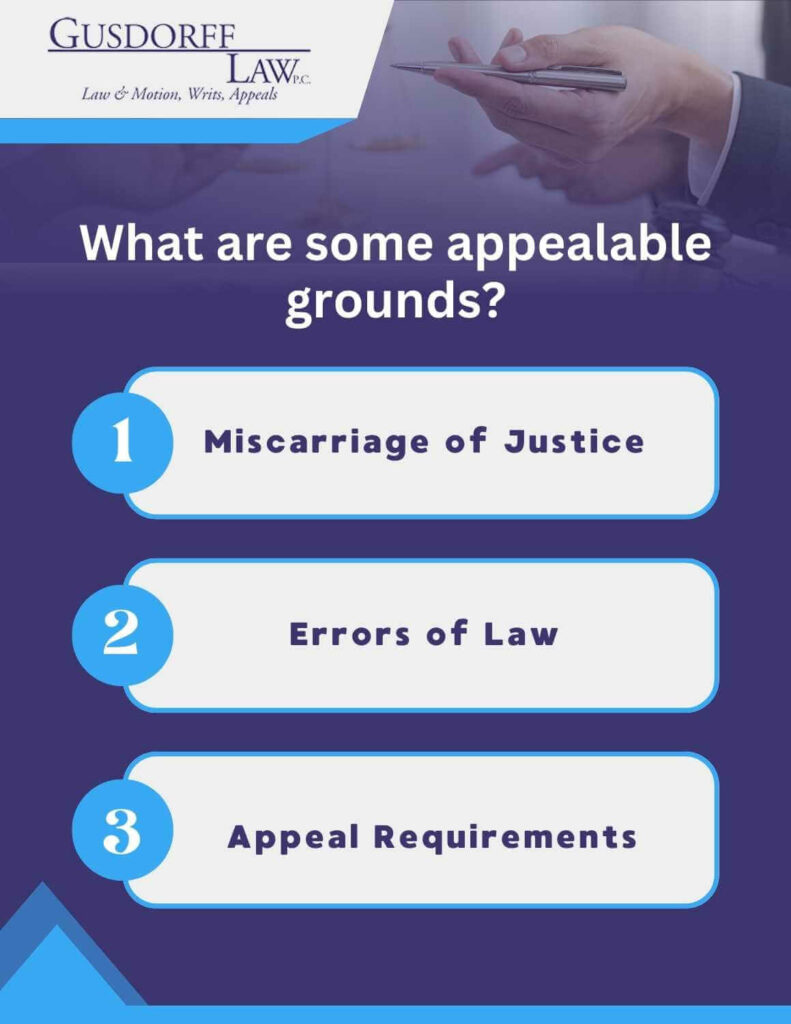 Why Do I Need an Experienced Los Angeles Product Liability Appellate Lawyer?
The justice system is not foolproof. There may be procedural and legal errors during your product liability case that prejudicially affected its outcome. If jury misconduct or a judge's legal error led to an unjust ruling or verdict, we can help you appeal and pursue the justice for which you have been fighting.
Trial court orders are clothed in the presumption of correctness and fairness, and it's not easy to convince appellate judges that there was harmful reversible error.
If you believe your product liability case in Los Angeles or anywhere in California deserves a second look, it would be best if you worked with a law firm that specializes in appellate law and has the necessary experience and resources to review your case, identify errors of law, and strongly represent you in an appellate court.
What Should I Expect When Filing the Notice of Appeal in State Court?
While each case is different, the mechanics of the appellate process for civil lawsuits, including product liability cases are typically similar. Here is a breakdown of the typical steps involved when filing a product liability appeal in California:
There are strict deadlines for filing a notice of appeal and they are jurisdictional, meaning they cannot be extended. Do not wait until the last second to file the notice of appeal.
To begin the appeals process, you must the notice of appeal within the statutory deadlines.
In an unlimited civil case, including product liability lawsuits that involve more than $25,000, you must file your appeal with an appellate court within the earliest of the following deadlines:
60 days from the date the trial court clerk serves notice of entry of  judgment 60 days from the date the other side filed a copy or serves you with notice of entry of judgment
180 days from the date of the entry of the trial court's judgment
(*note: These deadlines are not applicable in federal court)
A Los Angeles product liability appellate lawyer at Gusdorff Law will help you every step of the way including filing the notice of appeal within these strict deadlines. Once the notice of appeal and all other necessary paperwork such as briefs are submitted, we help with oral arguments in the appellate court.
Other steps involved in the appeal process include:
Step 2 – Pay the filing fee
Step 3 – Notice Designating Record on Appeal
Step 4 – File the Civil Case Information Statement
Step 5 – Prepare the appellate record
Step 6 – Briefing
Step 7 – Oral Arguments And Decision
Why Should I Hire Gusdorff Law to File My Appeal?
Both in California state appellate courts and in federal courts, appeals are complex and involve complicated analysis and procedures.
Without the guidance of a skilled, dedicated, and experienced appellate lawyer, you are likely to make mistakes that delay your appeal, increase your expenses, or cause the appellate court to deny or dismiss your appeal.
Before you proceed with an appeal on your own, schedule a free consultation with the experienced Los Angeles product liability lawyer at Gusdorff Law.
We represent clients on appeal in product liability cases and craft personalized strategies to best serve your particular needs. We tenaciously fight for your clients.
We pride ourselves on:
The ability to craft effective briefs
Thorough preparation and effective oral advocacy that addresses the issues that matter to the court
The knowledge, experience, and insight enables us to identify issues and legal issues from a fresh perspective, and frame them persuasively for the appellate tribunal.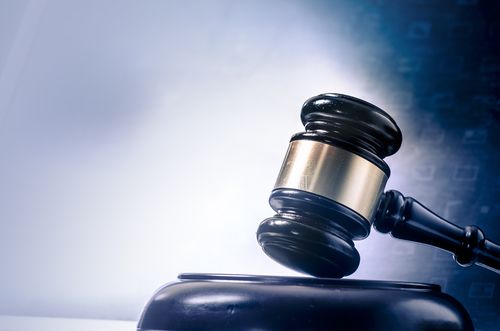 Contact an Experienced Los Angeles Product Liability Appellate Lawyer
Did you lose your product liability case? Or maybe you won your lawsuit but the defendant has filed an appeal?
Whichever the case, when the initial product liability litigation has left you with an unjust resolution, or you find yourself the unwitting participant in an appeal, an experienced and dedicated Los Angeles appellate lawyer at Gusdorff Law can help you at each step of the way.
We have a reputation in the industry as effective, honest, and creative, from our initial review of the merits of the product liability case to the completion of the appeal. We fearlessly advocate for our clients against some of the largest defendants and defense firms.
To learn more about our appellate services and your options in Los Angeles and elsewhere in California, call our Los Angeles product liability appellate lawyer at 818-877-4515. The initial consultation is free and confidential. Let us fight for the justice you deserve.