The right to appeal is a central tenet of the American legal system. If you were unhappy with the court's decision on your premises liability case, you have the option of seeking an appeal.
An appeal is simply a process that enables you to request the court to overturn or reverse the decision of the judge or jury. The appeal is usually done in a higher court than the original court.
To effectively appeal a premises liability case, you must adhere to certain procedures and deadlines, not to mention have a strong basis for an appeal. This makes the process a bit more complex than the trial process.
You also need to work with a professional and experienced Los Angeles premises liability appellate lawyer to guide you through the entire process.
In California and most other states, you can't win an appeal or overturn a court's decision by simply arguing that the judgment was wrong or unfair. You need to demonstrate that there was a legal error that occurred during the trial.
The appellate court will only remand or reverse your case only if it establishes that a material legal mistake affected the judge/jury's decision.
Gusdorff Law has been handling premises liability appeals and other appellate litigation for 15 years now, and you can rely on us to deliver a favorable outcome. Schedule a free consultation with us by calling us at 818-877-4515.
Can I File an Appeal from My Premises Liability Verdict?
The short answer is yes, typically. Either side can question the verdict of the trial court and appeal the judgment entered.
What Are Some of the Reasons that I Can File an Appeal?
While you may have the right to file an appeal, you need to have a valid reason to appeal. Civil appeals, including premises liability appeals, involve issues of law and not factual disputes.
As such, appealing the verdict of a premises liability lawsuit will be based on an error of law that was committed in your case prejudicially to you. Just being unhappy about the verdict isn't sufficient reason to appeal.
It's also worth noting that an appeal is not meant to be a do-over for your case. The appellate court will review the case records obtained from the trial court to establish whether it should reverse the verdict or remand the case to a lower court for further action.
The following are some of the common reasons why people file for an appeal in premises liability cases:
The trial court decided to deny the testimony of an expert witness claiming that the witness was not an "expert", which was incorrect.
The judge denied critical evidence that they should have allowed.
There was no evidence to justify the verdict or the verdict made was against the law.
There was jury misconduct, like discussing the case with persons not on the jury, concealing personal information that could affect the juror's decision, conducting independent investigations, or deciding the case with other jurors before jury deliberations.
Why Should I Hire a Los Angeles Premises Liability Appellate Lawyer Instead of the Trial Lawyer Who Handled the Original Case?
A trial lawyer has a different set of legal skills compared to an appellate lawyer. The appeals process generally involves researching the case and then writing briefs to the suitable court.
An experienced appellate lawyer will be able to review the documents from the trial court to see what kind of mistakes might have been made by the trial court and any erroneous rulings that could have been made by the trial judge.
Trial lawyers may lose their objectivity when reviewing their own work.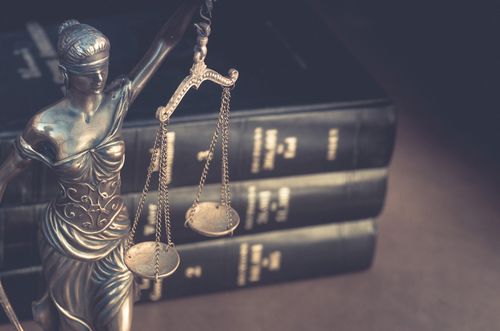 What Should I Expect During the Process?
If you want to appeal your case, it's important to understand the timeline of the process. Appeals can take anywhere from a few months to a few years based on the unique circumstances surrounding your case.
However, for every case, the appeal will have to be filed quickly after the verdict is made by the trial court, though the decision won't be immediate.
The first thing you want to do after the trial court is to contact a lawyer to help you determine if you are eligible to file for an appeal. There are substantive and procedural considerations that determine whether your matter may be appealed.
Keep in mind that there are appellate courts at both the federal and the state levels. The courts are made up of a panel of judges, unlike a trial court which consists of a panel of jurors.
When you file an appeal, your case will go through a number of steps before the final decision is made, as outlined below:
Filing Notice of Appeal and Briefing
When you file a notice of appeal, your lawyer designates the records, stating which transcripts and documents will be presented to the appellate court. Your lawyer may decide to file these documents in an appendix or excerpts of record when filing the opening brief, instead of specifying the documents to present at the outset.
Your Premises Liability appellate lawyer will then prepare and file an opening brief with the appellate court. The brief is your opportunity to convince the appellate court why they should rule in your favor.
Responsive Briefing
If you are the appellant, your opponent will file its responsive brief, addressing your legal arguments and attempting to convince the appellate court that it should not disturb the judgment.
If you are the respondent, this is your one opportunity to comprehensively present your legal arguments to the court.  The respondent tries to explain why the trial outcome was appropriate, either because no errors were made or because they didn't materially influence the outcome.
After the respondent's or appellee's brief is filed, the appellant has a final opportunity to respond to the respondent's/appellee's arguments.
Because the appellant has the burden to convince the court that there was a reversible error, the appellant gets the final word. However, it is improper to raise new legal arguments in a reply brief.
Oral Arguments and Court Opinion
After the briefs are submitted, the appellate court will review the briefs and relevant portions of the record, and prepare an opinion. Sometimes, there might be oral arguments where the lawyers can present their case in person (or virtually) and answer any concerns or questions the judge panel may have.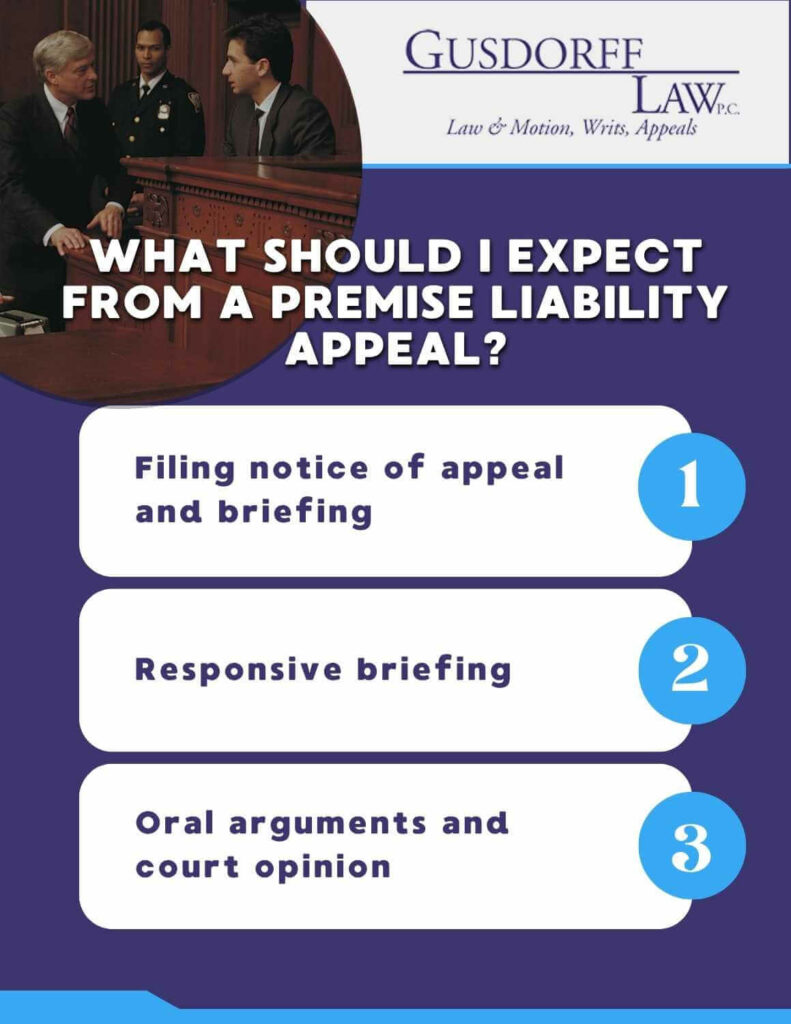 How Long Does the Appeal Process Take?
California appellate courts are required to issue a written opinion in about 90 days of the argument, or when the argument could have been held. Otherwise, they don't get paid.
However, there are usually no deadlines when it comes to holding oral arguments, and appeals could take as long as a year or more. Federal appeals can take even longer, depending on the court's caseload and the complexity of the appeal.
How Much Does it Cost to Appeal?
No two appeals are the same and our approach to each case is unique. Our briefing is tailored to your client, your case, your appellate court (and sometimes even your specific appellate panel).
A substantial amount of time and expertise goes into every case we handle.
Although retaining a certified Premises Liability appellate lawyer may be a significant investment, we do our best to creatively explore the best financial option for your situation, whether through flexible fee arrangements (i.e., hourly, flat-rate, hybrid-flat fee/contingent interest, or straight contingency-only) or appellate consulting to help you maximize your team's efforts.
Get in touch with Gusdorff Law to learn more about how much it will cost to appeal your case.
What Outcomes Should I Expect in My Premises Liability Appeal?
If the appeals court decides to grant you the appeal, there are a number of several potential outcomes. For example, the court may revise the jury's decision or verdict for the damages, entirely vacate the verdict, or remand the case to the trial court to start a new trial.
Keep in mind that the appeals process for premises liability cases can be time-consuming and expensive. As such, the decision shouldn't be taken lightly. Plus, you don't have a lot of time to decide whether or not you want to appeal the decision.
As such, it's always important to consult with your lawyer to discuss the potential outcomes of your case, and carefully weigh the information available to help you decide whether appealing your case is in your best interest.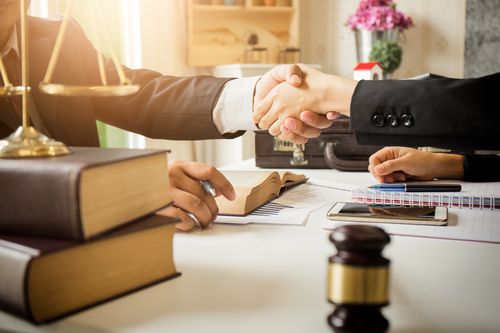 Do I Need to Outsource My Appeal to a Certified Specialist?
There are so many advantages to outsourcing your appeals to a certified appellate specialist. Appeals are often complex, and working with an expert can help you maximize your odds of appellate success.
You will benefit from working with a professional Los Angeles premises liability appellate lawyer who is well versed with the California court system and has successfully appealed cases similar to yours.
Why Should I Hire Gusdorff Law to File My Appeal?
The appellate process for premises liability cases is not easy. It can be quite difficult to realize that what you thought of as victory is now being contested by the other party.
If you were the plaintiff and the case was worth a lot of money, perhaps a seven-figure jury verdict on a premises liability suit, it's almost guaranteed that the defendant will try to appeal it, even when there are seemingly no valid grounds for filing an appeal.
So, whether you want to appeal the verdict or are defending one from an opposing party's appeal, consider hiring an experienced Los Angeles premises liability appeals lawyer to help you evaluate your case and give you realistic expectations.
At Gusdorff Law, we use our experience, expertise, and resources to assess the circumstances surrounding your case and provide you with the guidance you need to make your appeal successful.
While pursuing your appeal, you will need to have the right paperwork filed in a timely manner and file them to the right courts. You will also need to ensure that you have the supporting documents ready.
Working with an experienced Los Angeles premises liability appellate lawyer by your side can help raise your chances of winning the appeal case.
The following are more reasons why you should consider working with us when filing your premises liability appeal:
Our team pulls from a great deal of expertise, knowledge, and resources to evaluate your case, the different facts in your record, and the laws relevant to your case.
Our team are experts in scrutinizing the case proceedings in the trial court to find any appealable errors.
We have proven to be effective in conducting thorough research and creating the best appellate brief possible.
We handle all our cases, including appeals, skillfully, promptly, and efficiently, guiding the appellate court to understand how the errors in the trial court impacted the outcome of the case or made the trial process unfair.
Our track record speaks for itself when it comes to appeals at both the federal and state levels.
Contact a Los Angeles Premises Liability Appellate Lawyer Today
Gusdorff Law is led by an appeals lawyer with a thorough command of California law.
If you or your business suffered an adverse ruling in your trial, or you received a favorable ruling from the trial court which you want to uphold on appeal, consider getting in touch with us at 818-877-4515 for a free consultation.
You can always count on the team at Gusdorff Law to listen to your legal concerns, provide you with an honest assessment of the legal merits of your case, and deliver unparalleled legal representation personalized to your needs.
We take pride in providing our clients with an objective analysis of their cases.
Gusdorff Law represents clients in the California Courts of Appeal in Los Angeles and throughout the state. It also represents clients in the Ninth Circuit Court of Appeals.