We understand what it's like when someone suffers in an unbearable working environment or loses a job. If an employer tries to exploit, harass or harm you, you can file a lawsuit for damages.
At Gusdorff Law, we are dedicated to representing clients in their wide range of appeals of employment disputes in Los Angeles. We have helped employees in large corporations denied their promotions, whistleblowers who fight discrimination, and many others.
We at Gusdorff Law understand that employers, in general, may violate federal and state laws. We are familiar with employees' legal rights in the workplace, and we will be proud to represent you against your former or current employer in your appeal.
You can reach our appellate litigation lawyer at 818-877-4515 or come to our Los Angeles office for a free consultation and case assessment to get you started.
What are Employment Disputes?
Employment disputes are formal disagreements between an employer and an employee that generally concern the rights of the employee. The law forbids an employer from retaliating and discriminating against employees of various safeguarded classes.
Workers are often concerned about working conditions and pay, proposed changes to work location or duties, redundancy concerns, disciplinary action or termination of employment threats, maternity rights, requests of flexible working, changes as a result of health problems and discrimination, bullying, and harassment.
Understanding and advising the employee on the rightful position according to the legal framework and the employee's employment contract is our approach.
What are the Different Types of Employment Disputes in California?
We deal with a wide variety of employment disputes and individuals in Los Angeles, California. Here are some examples of the various types of employment disputes we deal with:
Whistleblower Retaliation and Whistleblower Claims
The law safeguards employees who report to the correct law enforcement agency or government agency if their employer is believed to be violating federal or state law, rule, or regulation.
An employee who exposes violations or refuses to engage in activities that violate the law is referred to as a whistleblower. Retaliation against whistleblowers is illegal.
Medical and Family Leave Act (FMLA) Violations
Workers in California are safeguarded by the state of the California Family Rights Act (CFRA), California Fair Employment and Housing Act (FEHA), and Federal Family and Medical Leave Act (FMLA) when they need a leave of absence from work to care for their own illness or condition, or to care for an ill or injured family member, a newborn, among other reasons.
The law also forbids employers from causing harm to employees who are planning or have taken an FMLA or CFRA leave.
Retaliation for Workers' Compensation
The law does not allow employers to retaliate against workers who exercise their right to get compensation following occupational disease or an accident at work.
Terminating, reducing work hours, or demoting employees for filing an employee compensation lawsuit is against the law, and workers can sue their employer.
Wrongful Termination
Employment, where a worker can be fired for any legal reason or at any time, is known as "at-will" employment.
However, if an employer has violated federal or state law by terminating an employee—for example, getting fired for reporting misconduct or retaliation for a report of harassment—they might have reasons to file a wrongful termination claim.
Sexual Harassment
If you experience sexual harassment in the workplace, you have legal protection. Harassment can include a hostile working environment or unwelcome conduct based on sex due to the worker's perceived gender or sexual orientation, as well as "quid pro quo" sexual advances.
Gender discrimination is a breach of Title VII of the Civil Rights Act of 1964 and the California Fair Employment and Housing Act, regardless of the perpetrator's gender.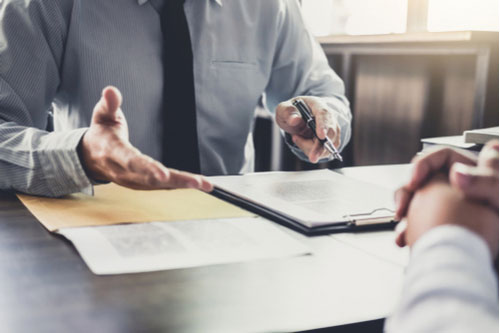 Employment Discrimination
Discrimination based on disability, gender, sex, religion, national origin, or race in the place of work, whether in terms of promoting, firing, hiring, or any other adverse employment action, violates federal and state laws.
False Claims Act (Qui Tam)
The False Claims Act establishes a fine that is double the government's damages and a fine of $2,000 for someone who intentionally misrepresents the government or submits a false claim.
A relator (a private person) can file an FCA violation lawsuit (called a qui tam action) on behalf of the government. In a successful case, a relater can get 25 to 30 percent when the government obtains a recovery from the defendant.
Pregnancy Discrimination
Employers cannot terminate or abuse you during pregnancy (or even because they suspect you may become pregnant), or after you have given birth.
Employers must also reasonably accommodate you during and after pregnancy, for instance, for leaves of absence and flexibility with scheduling to visit your doctor.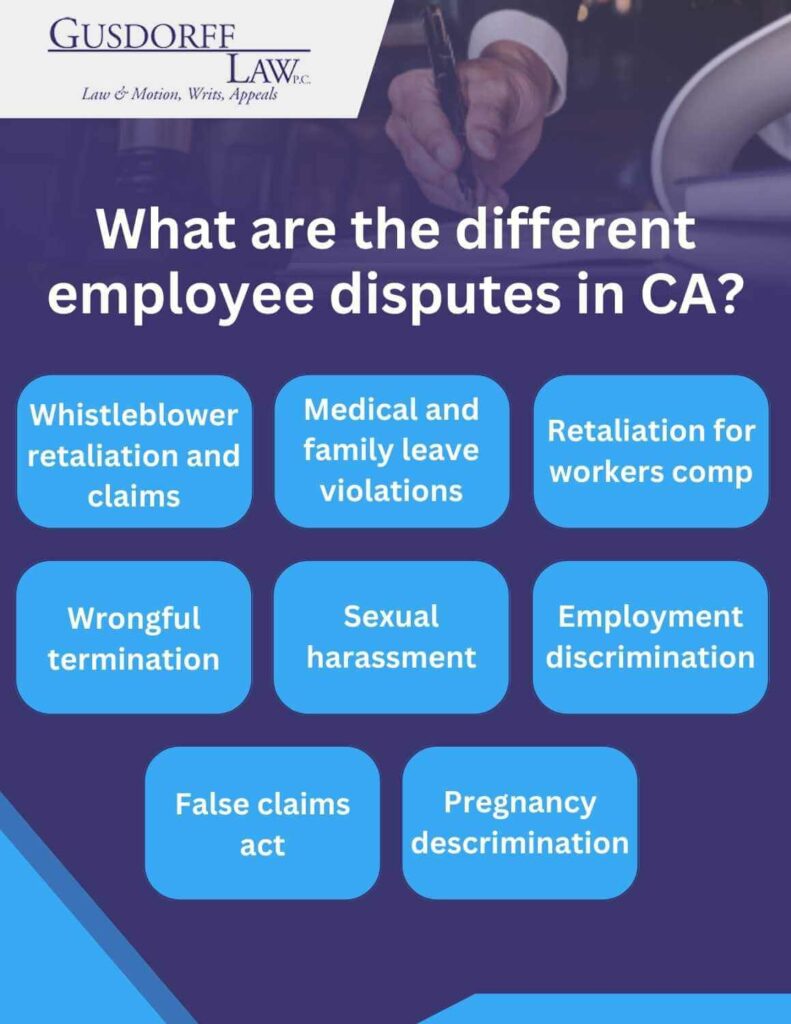 What Are Some of the Common Appealable Employment Issues?
Gusdorff Law helps resurrect employment law cases when they have been prematurely ended at summary judgment by carefully sifting through the record, identifying triable issues of fact and helping reframe the evidence to persuade the appellate court that a jury should decide the case.
Occasionally new evidence comes to light after the trial has concluded because other employees have since suffered similar wrongs or no longer worry about holding onto their jobs and reveal previously undisclosed information.
Gusdorff Law is able to advise counsel on the best course of action to take once new evidence comes to light.
Common appealable employment issues involve:
Demonstrating substantial evidence that an employer's reasons for taking an adverse employment action were pretextual;
Challenging improper jury instructions or proper, but irrelevant and prejudicial instructions;
Defending non-economic damages from an attack on appeal (workplace indignities cause more harm than one might expect and the harm is not visible in that a broken bone would be). Trial lawyers elicit the necessary evidence and on appeal, Gusdorff Law helps weave the compelling evidence with controlling authority to persuade the appellate court that the judgment should be untouched;
Procedural errors due to exclusion of key witnesses or evidence;
Interim rulings that were not appealable, but ultimately affected the course of the trial or proceedings;
Why Should I Hire Gusdorff Law to Handle My Employment Appeals in Los Angeles?
One of the critical decisions you can make is to decide which employment law appellate firm to turn to for legal advice when you are facing appealing or defending an appeal of an employment law judgment.
Here are some reasons why you should consider Gusdorff Law when appealing the results in your client's labor disputes:
Free Consultation: We provide free preliminary advice, so trial lawyers and employees understand all of their rights before making significant decisions.
Local Firm: Our firm has a law office in Los Angeles, and you only need to get in touch with us.
Extensive Experience: Our firm has years of experience assisting people who have combated unfair business practices, from discriminatory failure to promote to wrongful termination of employees
Proven Results: Our firm has successfully appealed a variety of employment law cases under the FEHA, CFRA, FMLA, and California Labor Code.
Confidential Advice: All consultations and communications with our firm are confidential.
Member of California Employment Lawyers Association (CELA): Janet Gusdorff is a proud member of CELA, and has spoken at the annual CELA conference, in addition to regularly advising other CELA members on how to preserve their clients' appellate rights.
Contact Gusdorff Law Today for a Free Case Review Regarding Appeals of Employment Disputes in Los Angeles
At Gusdorff Law, we have the years of experience necessary to aggressively start appeals of employment disputes in Los Angeles against any employer, public or private, small or large.
You can rest assured that we will guide you strategically and confidently in this legal process. We always prepare for legal representation from the start of your employment law case. Contact us at 818-877-4515 for more information and a free consultation and case evaluation.