Appellate briefs are a detail that you are going to have to focus on as a client. This is how you are going to set the foundation for the entire appeal and how it goes through. The court is going to want a complete assessment of the case verdict and why an appeal is necessary. There has to be reasonable doubt on specific portions of the case for an appeal to go through.
In a situation such as this, the best course of action is to consult with a trusted law firm. At Gusdorff Law, we are going to take the time to do this for you and then offer comprehensive legal advice. Due to our expertise, you will know the advice is going to be reasonable.
The appellate brief is one of the most important steps in the legal process and it has to be handled with care. This is your opportunity to present your side of the case, and that has to be done with a lot of professionalism.
If you are in this situation then calling Gusdorff Law at 818-877-4515 is the right way to go. We will help with the brief and appeal process.
What Is an Appellate Brief?
To understand the importance of an appellate brief, it's essential to start with the definition of this document.
In general, an appellate brief is designed to showcase the underlying reason for filing the appeal. It is important to show why there is a need for this when a lower court already made its decision based on the case facts.
You have to demonstrate there is enough doubt through the brief for the trial to go ahead. It is going to be up to the judge to decide what is best for the case and whether or not it deserves more attention in court.
This is why it is important to not only get the brief in but make sure it is airtight. A lot of work is going to be done to go through the appellate brief and making sure it is ironclad becomes essential.
To learn more about what you are going to get with Gusdorff Law, the brief is a good starting point. We will discuss these details with you along with what the brief is going to include as soon as it is written. Give us a call at 818-877-4515 to begin the process.
What Is the Process for Appellate Briefs in Los Angeles?
You are going to want to know more about the appellate brief process as soon as it is time to move forward with a legal appeal in Los Angeles. For any appellate brief that is going to be filed, Gusdorff Law is more than happy to help. This includes going through the case details, positioning the case for a positive verdict, and then filing the appellate brief promptly.
You should not have to worry about missing the deadline or not getting it in safely. This is all going to be taken care of by our team due to our experience. We have done this for numerous clients in the past for all types of legal appeals. This ensures you are going to feel confident in how quickly the appellate brief is going to be filed. We will take care of everything including what is written in the brief.
This is ideal for those who have not done this in the past and want appropriate legal representation in Los Angeles. Give us a chance to help out and we will provide an airtight appellate brief that showcases your position in court.
For more on what we do for this part of the appeal process, call Gusdorff Law at 818-877-4515.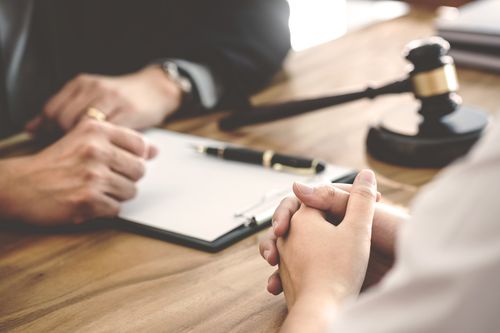 Why Should I Hire Gusdorff Law to Write My Appellate Brief?
Gusdorff Law is the perfect law firm for your appellate brief because of our expertise. We are a knowledgeable law firm that will use all of its resources to put together a resolute brief.
Remember, this is one of the most important steps in the legal process and it is going to be the foundation for whether or not the appeal goes through. If you make mistakes in this regard, it is possible things won't work out as planned.
Let us make sure the brief does go through and leads to the appeal process moving forward. With our help, you are going to know things are going to be done by following the law and the team will focus on what you want.
If you are worried about the appellate brief and how it is going to be written, take the time to reach out to us at 818-877-4515. We will discuss all of this during the consultation along with how we are going to move forward with the case itself.
This is a one-stop law firm in LA for those who want to feel safe with what they are investing in. Give us a chance to help and know the appeal process will be a fair one.
Contact Gusdorff Law Today
The foundation of any appeal process is going to be through the appellate brief. The right measures need to be taken during this stage. If not, it is possible the appeal is not going to go ahead and you are going to be left without any other legal recourse. This is why it's best to consult with a trusted appellate law firm such as ours to make sure the brief is resolute.
At Gusdorff Law, we are going to be focused on filing a brief that is reasonable and provides all of the necessary facts in one place. This organized approach is what you are going to need when it is time to get started on the appeal process.
For us, the most important fact is to make sure the verdict is reversed and that begins with a complete analysis of your case. We are also going to make sure the reasoning that is used in the appellate brief is a strong one.
For more on what Gusdorff Law is going to do for you, please give us a call at 818-877-4515.