If you have reservations about a ruling in a real estate case, you have the legal right to file an appeal at the California Court of Appeals. While the law allows people to do this themselves, the chances of the appeal application being approved are higher when you opt to work with an experienced Ventura County real estate appeals lawyer. At Gusdorff Law, we are confident that we can handle your real estate appeal in Ventura County, CA.
Having the essential facts in the case is crucial but will not be enough to win. The appeal process requires particular expertise that is different from the knowledge needed in a regular trial. The appeal process will pose unique challenges, and the appeal or writ is best handled with a fresh perspective. Your previous lawyer could have tunnel vision, and choosing someone with a fresh perspective is best.
Janet Gusdorff is an experienced, and reputable attorney specializing in state and federal appellate litigation in California. She is the founder of Gusdorff Law firm and the person you want on your side when challenging unfair judgments. Our team understands each case is different and our strategy is tailored to each client's needs. Call 818-877-4515 to know more about how we can help with your real estate appeal and more.
Can I File an Appeal for My Real Estate Case Verdict?
California state laws give you the right to appeal a real estate verdict. However, having a solid reason for appealing the ruling is essential for the application to be accepted by the California Court of Appeals.
It is prudent to point out that while you can file real estate appeals in Ventura County and California, not all applications can pass the approval stage. For instance, you lose the chance to appeal if your case was settled out of court.
What Are Some of the Grounds on Which I Can File an Appeal?
Often, the outcome of the cases that move to court is a judgment that one or both parties will disagree with. Being unsatisfied with a ruling doesn't necessarily mean you have grounds for an appeal. There must be proof of an error that influenced the ruling.
Here are some of the reasons to appeal the outcome of your real estate case in Ventura County, CA:
The court denied testimonies of an expert witness and that decision was incorrect.
The court denied evidence that should have been allowed.
The judge explained the law in a biased manner.
There is a lack of evidence to justify the verdict of the case.
The jury discussed the case with people who were not part of the jury or other jury misconduct.
It's important to note that an appellate court will not consider new evidence. Instead, the court considers if an error was made in the trial based on guidelines known as the Standards of Review.
The three common standards of review include:
Abuse of Discretion Standard
The appellate court will look at the abuse of direction to review litigation involving the court's use of direction. This occurs when a trial judge makes a ruling that is absurd or arbitrary to your case.
Substantial Evidence Standard
If your appeal is based on not having substantial evidence, then it will fall under this substantial evidence standard. For this reason, the court will go over or review the record to understand if the evidence provided reasonably supports the trial court's ruling.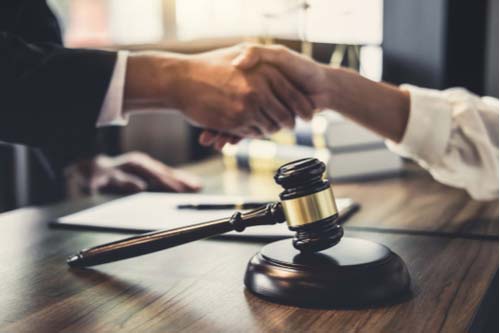 "De Novo" Standard
This is a Latin term meaning from the start. Under these standards, the appellate court will review the decision made, and for fairness, they assume that no-ruling was provided. However, it is important to note that this type of review is limited to issues pertaining to the interpretation and application of the law and statutes.
What Should I Expect During Real Estate Appeals Process?
If you are thinking about moving forward with the real estate appeal then it is essential to learn more about what it is going to entail.
The appeals process is going to start with Gusdorff Law as you will want to consult on the matter. This includes speaking to a reputable lawyer who will go through the case details and then pinpoint what your options are.
We will prepare and file a notice of appeal and an initial brief. The appellate brief is going to highlight the basis of the appeal and why it is being made. Our law firm can assist with this matter and will be there for you throughout the process.
We believe it is important to get a professional to help out as we are going to have all of the legal resources you could ever need. This makes a difference as it will allow you to focus on getting a good verdict as we will help.
To get our law firm on your side, call 818-877-4515.
Why Should You Hire Gusdorff Law Firm to File a Real Estate Appeal?
Janet Gusdorff is a certified appellate law specialist with over 15 years of experience in the industry. Gusdorff Law has handled hundreds of state and federal appeals up to now. Our team offers a unique perspective and approach to appellate law. In fact, our firm has the required appellate knowledge, research skills, writing skills, and presentation skills to handle your appeal and get you the justice that you rightfully deserve.
Get in Touch With a Reliable Ventura County Real Estate Appeals Lawyer
Real estate appeals can include a long list of variables and each one is important. Your goal should be to assess through conditions and better recognize what you have to do to win an appeal.
Most clients will take the time to go through these details on their own and that can lead to mistakes. It's important to consult with a seasoned lawyer that has experience with appellate litigation. Remember, this is not the same as trial law and there is a lot more that goes into it including the underlying regulations.
We are firm believers in taking the time to speak to an accredited lawyer such as Janet Gusdorff of Gusdorff Law. The reason our law firm helps has to do with our expertise. We are going to use this experience to help make your life easier during the appeal process.
For more on what we are all about and why we can help, please call Gusdorff Law at 818-877-4515.