We at Gusdorff Law understand how frustrating it can be when the desired outcome is not obtained in a trial. However, often, lawsuits don't end at the trial level.
In many cases, judges can make mistakes and an erroneous trial court verdict can be made, when this happens you must act quickly to appeal the judgment to remedy the mistake.
When a mistake is made in your case because of jury misconduct, an abuse of discretion by the judge, errors in the legal interpretation of a statute, or a verdict not supported by substantial evidence, Gusdorff Law can provide the guidance you need to appeal the decision and pursue a favorable outcome.
Our firm has a reputation for aggressive and zealous pursuit of Santa Barbara appellate litigation cases. We ensure that you have the crucial resources necessary to successfully pursue and conduct a winning appeal.
Gusdorff Law is uniquely qualified for your appeal because we provide comprehensive legal expertise in all appellate related matters.
Do you really need an appellate attorney for your appeal? Appellate lawyers provide a fresh perspective and special expertise that complement the different role of a trial lawyer.
Virtually, all aspects of appellate practice are different from those of trial court practice.
Our Santa Barbara appellate firm will assist with all aspects of your appeal, including drafting and arguing briefs and motions. Call us at 818-877-4515 for a free case evaluation.
What Is Appellate Law?
A trial is not always the end of a case. One or both parties may want to appeal the trial verdict. In addition, they may want to appeal specific aspects of the lower court's proceedings that they are convinced may have led the court or jury to make the wrong judgment.
Appellate law is the area of law that concerns legal matters and appeals that take place in higher level courts such as the California Courts of Appeal, or the California Supreme Court beyond the trial court.
The process of asking a higher court such as the Ninth Circuit Court of Appeals to review all or part of a verdict made by an administrative agency or lower court is called an appeal, and the attorneys who handle appeals are known as appellate lawyers.
When an unfavorable verdict is made by the trial court, an appellate court can review substantive or procedural issues of law that one side is convinced may have resulted in a different outcome in the case if the trial court's decision was different.
Appellate courts accomplish this through the review of the record of the lower court, including evidence exhibits, a full transcript of the hearing, orders, motions, voir dire, and any other relevant court documents to the case.
An appellate attorney will file a brief that contains the best arguments for the appeal and will have the opportunity to argue those points in an oral argument before the appellate court.
The appellate court will then have three options: to uphold the lower court's decision, reverse the verdict, or remand the issue back to the lower court.
Appellate law is precise, complex and requires carefully drafting of legal documents and well-rehearsed oral arguments.
Attorney Janet Gusdorff of Gusdorff Law is well-versed in appellate law and provide clients with expert knowledge and experience that translates to successful appeals. Contact Gusdorff Law for a free case review.
How Is an Appellate Lawyer Different From a Trial Lawyer?
Most people assume that good trial lawyer will make good appellate attorneys. But is that assumption really true? If your lawsuit does not go your way and you wish to appeal, you need to consider letting an appellate lawyer to handle your case.
There are fundamental differences between appellate and trial lawyers, which can make all the difference in your appeal.
Trial Lawyer
A trial lawyer handles initial investigation in cases and manages all pretrial issues, including discovery, depositions, interrogations, and court hearings. They will also handle negotiations with the other side to try and reach a settlement.
If the case goes to trial, you lawyer will submit evidence, examine and cross-examine witnesses, and make closing arguments to the jury or judge, and their work ends here.
Appellate Lawyer
Appeals are different from trials, there is no evidence to be submitted, no witnesses to examine or cross-examine in, there are no court arguments to be replayed, the record is fixed, and appellate judges are not juries or trial judges.
Appellate cases consist of written briefs and oral arguments before an appellate judge base on the judgment made at the trial level.
The purpose of an appeal is to argue that the lower court's verdict was made in error or in based on substantive facts that fundamentally altered the outcome of the case.
With these vastly different considerations, it stands to reason that the chances of achieving a favorable outcome for you case are maximized by retaining an appellate lawyer for your appeal.
What Can Be Appealed?
Generally speaking, as a party involved in a civil matter – including a product liability lawsuit, a premises liability case or a personal injury lawsuit – you can appeal any final verdict or judgment.
However, for you to appeal, you must submit your appeal within the set time limits, and there must be some legal ground for filing your appeal.
Legal grounds for filing an appeal in California are errors of law or procedure that occurred at the trial level.
For example, the judge may have made an incorrect ruling on an objection or motion, which allowed biased testimony to be heard by the jury.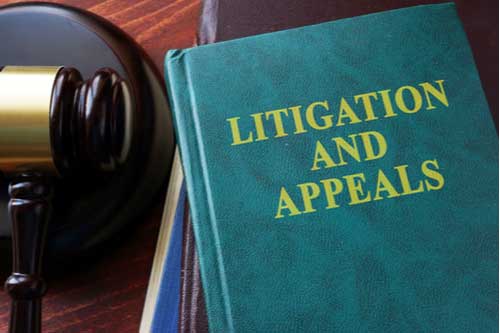 What Functions of the Appellate Process Does Gusdorff Law Handle?
The appellate process is demanding, complex, and strict time limits apply. The appellate process requires some of the most sophisticated legal reasoning performed by a lawyer.
As experienced appellate firm, Gusdorff Law is prepared to analyze your case, assemble all required documents, and help with all aspects of your appeal including:
Briefs
We will draft compelling briefs citing statutes, rules and the record of the case to explain to the California Supreme Court or other relevant appellant court why the trial court made a mistake or error.
Writ of Petition
Writ petitions need to be filed within set deadlines. Your Santa Barbara appellate lawyer will create a well-timed and strongly-written writ of petition that can change the course of the case in your favor.
Oral Arguments
An experienced and articulate appellant lawyer will clarify all points made in the brief, emphasize the most important aspects of the argument and answer questions from the appellate judges during oral arguments.
Petition for Review
A petition for review consists of your request to the appellate court to select your case for consideration. Our firm will file the petition for review on your behalf to get the decision regarding your trial case reviewed.
Motions
Motions are different in an appeal than in a trial court.
Our lawyer have experience with appellate motions including motions to strike the other side's brief because of failure to comply with appellate rules, motions to consolidate appeals, motions to stay proceedings, and motions for rehearing, to name a few.
Trial & Appellate Mediation Briefing & Representation
Even after you appeal your case, settlement is still an option. We believe it's never too late to settle and will work on appellate mediation including finding the best settlement for you and notifying the appeal court.
Opposition to Motions for Summary Judgement
If you won your case and the other side filed an appeal, we can help file a motion for summary of judgement asserting that the defendant has raised no genuine issue for an appeal and ask the appellate judges to rule in your favor. If you are requesting an appeal, we can oppose motions for summary judgement.
What Types of Appeals Does Gusdorff Law Handle?
Gusdorf Law offers representation on different civil appeals throughout California, including in Santa Barbara. We are honest and 100% straightforward and will not hesitate to tell you if we advise against an appeal. Additionally, we can help with all aspect of your appeal. Some of the appellate cases we handle include:
Looking for a Santa Barbara Appellate Litigation Attorney?
Appeals are complicated, time-consuming, and require a significant amount of legal research. Failing to meet the proper time limits or a mistake in procedure will likely lead to a dismissal of you appeal. Don't fight for your justice alone.
Call a skilled Santa Barbara appellate litigation attorney at Gusdorff Law to help with your case. We will diligently review the records and transcripts of the proceeding to spit issues that will provide the best of favorable outcome from appellate courts.
Call 818-877-4515 for a free case review.