After an unfavorable real estate verdict, all is not lost. You can still request an appeal under some circumstances. Appeals can be complicated. People often request appeals to real estate verdicts due to legal errors or instances where testimony or evidence is wrongly admitted or excluded.
Every case is unique. At Gusdorff Law, we will tailor a custom approach to your case, offering a fresh perspective to your arguments and craft legal arguments to increase the chances of your appeal succeeding. We are committed to providing top-quality litigation services to our clients. We will demystify the appellate process and keep you fully informed.
Santa Barbara real estate appeals lawyer Janet Gusdorff of Gusdorff Law understands the procedures for finding errors that support the grounds for an appeal. Our legal team is experienced, factual, efficient, analytical, and strategic. We know how the appellate litigation process works. We can assess your case to see whether an appeal is appropriate.
Contact Gusdorff Law at 818-877-4515 for a free consultation today.
Can I File an Appeal for My Real Estate Case Verdict?
An appeals court has the mandate to review the criminal and civil decisions of most federal or state trial courts. An appeals court can also review administrative decisions made by agencies. When an appeals court finds errors of law in prior proceedings, your case will be subject to review.
You cannot file an appeal just because you are not satisfied with the outcome. You can only file an appeal for your real estate case verdict if there were errors such as misinterpretation of legal precedence or the core evidence not supporting the verdict.
But, before you appeal your real estate court judgment, you will want to understand the process or have a good real estate litigation lawyer by your side.
What Are Some of the Grounds for Filing an Appeal?
Grounds for appealing a verdict in a real estate case include:
There Was an Error of Law in Your Judgment
When a judge makes an error of law, it means they applied the wrong legal standard or wrong rule to your case's facts. An error of law can occur if a trial court fails to follow either your state's case or statute law applicable in your case's circumstances. You may have grounds to appeal your real estate case decision if the judge or jury makes an error of judgment.
The Judge or Jury Made an Error Regarding the Facts
In general, for a judge to make a ruling in the trial court, the decision must be based on the facts proven at trial. A judge or jury serves as a fact finder. Being the fact finder, the judge or jury must decide whether a fact has been proven or not after considering the evidence.
A judge's or jury's factual error is the most difficult to establish because they have the opportunity to observe the evidence through photos, documents, witness testimonies, and other pieces of evidence. Typically, appellate courts will not overturn factual findings unless it is clearly erroneous.
The Judge "Abused His/Her Discretion"
Except for judgments that are strictly based on the application of the law, judges have significant power to make judgments in a case known as judicial discretion. Examples of this power include:
Granting protection orders.
Granting a party's request or motion.
Approving settlement agreements, or what evidence to admit.
Since appellate courts trust that trial judges are able to make trial decisions, they respect the discretionary power of trial judges. Generally, as long as a decision made by a trial court judge is within their discretion, an appeals court will go along with it.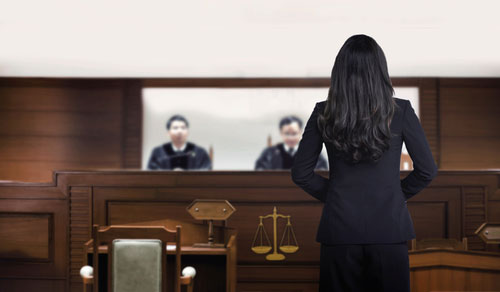 What Should I Expect During the Appeal Process?
The appeals process is complicated, and you will want an experienced appeals lawyer helping you. The process begins with filing a notice of appeal.
Filing a Notice of Appeal
You are expected to file a notice of appeal for your real estate case within 60 days after a trial judge renders their verdict.
You should prepare at least two copies of this document. One for yourself, another for the other party, and the third to stay with the court.
Serve the Respondent With a Notice of Appeal
Next, you should have a copy of the Notice of Appeal delivered to the other side either by mail or in person. Remember to serve the respondent with a copy and not the original. In addition, have the person who delivers the Notice of Appeal prepare a Proof of Service document and make duplicates.
File Your Notice of Appeal and Proof of Service with the Court Clerk
Finally, submit the original Notice of Appeal and Proof of Service along with copies of each to the court clerk. The clerk will retain the original documents and return the stamped copies. In order to file the Notice of Appeal, you will have to incur a filing fee.
Why Should I Hire Gusdorff Law to Handle My Real Estate Appeal?
The law doesn't bar you from filing an appeal on your own. But, since it's a complex process that involves technical rules of law, and written arguments, having a real estate appeal lawyer will be very important. Here is why you should hire Gusdorff Law for your real estate case.
Experience
Janet Gusdorff is a certified appellate law specialist (California Board of Legal Specialization) many years of experience in California appellate courts. Having handled writs and appeals for many years, our firm offers a unique approach to appellate law. At Gusdorff Law, we specialize in state and federal appellate litigation in Santa Barbara and throughout California.
Our creative and forthright advocacy will give you an advantage in the appellate courts by working with us. Our real estate attorneys will articulate the most persuasive arguments.
Gusdorff Law will help you hold onto your hard-fought judgment and challenge unfair decisions. Since no two cases are similar, we will tailor our approach to suit your unique needs.
Consultancy
The experienced attorneys at Gusdorff Law can help as your appellate consultant. We will provide you all the guidance and advice you need for your case if you already have a litigation team.
Contact a Santa Barbara Real Estate Appeals Lawyer Today
If you are looking to appeal an unfair or unsatisfactory verdict on your real estate case, contact the appellate specialists at Gusdorff Law. Contact us at 818-877-4515 for more information on our appellate services. We offer a free case review and consultation. We will go through each detail and advise you on your legal options.