At Gusdorff Law, we know that appeals require a lawyer with experience, skills, and commitment to negotiate the appeal, avoid procedural pitfalls and defend and win judgments.
Riverside appellate litigation attorney Janet Gusdorff has experience in handling appeals and orders in a variety of federal and state cases. Our team is familiar with the appellate process and possesses convincing writing skills, solid legal knowledge, and experience in dealing with complex legal issues.
Gusdorff Law has a history of successfully reversing or defending judgments and injunctions in favor of our clients, gaining a reputation in Riverside and all around California. Our firm has extensive experience on a variety of appellate legal matters, ranging from personal injury to product liability to real estate.
Our legal services are tailored to your personal case and range from assessing the reasons for a possible appeal to handling and completing the appellate procedure. Contact us at 818-877-4515 to schedule a free assessment of your case.
What Is Appellate Law?
Appellate law is a legal procedure that happens at higher levels outside the local court. It's a process where a higher court is brought to review part or all of a judgment by a lower administrative authority or court. The attorneys who handle these cases are called appellate attorneys.
The right of appeal exists at the federal and state level, as well as in criminal and civil law. Appeals for different cases can be heard in mid-level appellate courts or the Supreme Court.
In the event of an unfavorable decision by the trial court, the court of appeal may examine a substantive or procedural issue that, in the opinion of one of the parties, could have led to a different outcome if the court had issued a different decision. The appellate law achieves this by examining the record of the trial court, which contains the full orders, motions, voir dire, exhibits, evidence, and any other relevant material.
If you choose to appeal, your appellate lawyer will file a brief presenting the best reasons for the appeal and will have the opportunity to present these issues to the appellate court as an argument. The court of appeal then confirms the decision of the lower court, overturns the decision, or remits the case to the lower court.
How Is an Appellate Lawyer Different From a Trial Lawyer?
Trial lawyers handle all first-level matters in the court system. You will meet these lawyers first when a criminal case occurs. Pretrial matters include all aspects of the case like depositions, production investigations, and interrogations, as well as any preliminary evidence.
The trial lawyer will consult with the other party and negotiate to reach an agreement before proceeding to the court. If no agreement is reached, the attorney will take your case to court. During the court process, your attorney will make opening statements, interview and hear witnesses, produce evidence, and present closing remarks to the jury and judge. With the final verdict, the trial lawyer's work ends.
If the decision is unsatisfactory, an appeal may be filed with the appellate court. At this point, the experience of an appellate lawyer is crucial as it will determine your success.
Keep in mind that the hearing of an appeal is not the same as a trial. New evidence cannot be presented, no testimony from the witness can be presented, and arguments of your peers cannot be made against the jury. A hearing of an appellate comprises of oral arguments and a written brief before the judge's panel, depending on what happened at the level of trial.
The trial transcript is reviewed by your appellate attorney, which consists of preliminary observations, testimony from witnesses, evidence, and court decisions to identify if any errors were made. Your appellate lawyer then prepares a written brief for the appellate court explaining the mistakes and how they affected your case. The appellate attorney then presents your case to a group of appellate judges, who listens and makes a decision depending on the arguments of both parties.
What Can Be Appealed?
If you've lost a case, you don't automatically have the right to appeal the decision. Generally speaking, a case can only be appealed when there are legal grounds to do so. In criminal cases, only the defendant can appeal the decision. In civil cases, both parties can file an appeal.
In California, a case can only be appealed if there are legal issues. Legal errors that would justify appeal include procedural errors, exclusion of evidence, prosecutorial misconduct or ineffective counsel. Questions of fact, such as the innocence or guilt of the defendant, are not grounds for appeal.
Gusdorff Law can review your case and determine if there were legal issues in the trial court that would give grounds for appeal. We can also tell you more about the remedies available to you if we win your appeal. Don't hesitate to reach out to us if you'd like us to review your case. We'd be happy to discuss your case with you and answer any questions that you might have.
What Functions of the Appellate Process Does Gusdorff Law Handle?
The appealing party is referred to as the appellant or the petitioner sometimes. The other side is the respondent or the appellee. An appeal begins with filing an appeal notice. At Gusdorff Law, we will begin to administer the following functions of the appellate procedure after the filling:
Briefs
The brief a written statement that gives an opinion on the part of the legal arguments and facts on which they rely to request the court of appeal to reverse the trial court's decision. The respondent, therefore, has a certain period to defend himself. The petitioner might then present a second brief in response to the respondent brief.
Writ of Petition
The writ of a petition is filed by the losing party to a higher court seeking to overturn a lower court judgment or against a lower court on ongoing proceedings.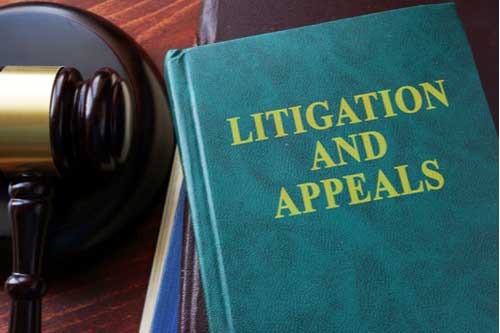 Oral Arguments
Oral arguments give lawyers on both sides a relatively short chance to present the case in court and answer the judges' questions during the hearing.
Petition for Review
The petition for appeal is a request for a higher court to review the decisions and procedures of the trial court to ensure that the process was fair and that the relevant law was correctly applied.
Pre-Trial Motions
Pre-trial motions can be a way to dismiss a case before it is heard by a court or to request that the court make a decision without a trial. Some motions, such as a motion alleging improper venue, must be made before a case goes to trial.
Trial/Post-Trial Motions
Other motions can be filed during a trial or after a trial has concluded. Post-trial motions are distinct from appeals in that they are filed in trial court. Examples of post-trial motions include a motion for a new trial or a motion to set aside the verdict.
Trial & Appellate Mediation Briefing & Representation
Settlement is an option even after judgement has been delivered. When Gusdorff Law represents you in appellate mediation, we will see if it's possible to negotiate the case outside of court. Settlements can save valuable time, and they can also reduce your expenses.
Opposition to Motions for Summary Judgment
A motion for summary judgment takes place when the party states they want a judgment to be made on specific facts of the case without going to trial. We can help you oppose such motions, so your case can be heard.
What Types of Appeals Does Gusdorf Law Handle?
After an unfavorable trial court decision, you can move to a higher court and appeal the decision. Here are several types of cases we can assist you in appealing:
Personal Injury
An appeal can only be filed in personal injury cases where it is believed that there was an error of law that caused prejudice. The appeals are available to both defendant and plaintiff.
Product Liability
If you get injuries from a defective product, you can sue the manufacturer on product liability grounds. In the event of an unfavorable court decision, we can assist you in appealing to a higher court.
Premises Liability
Premises liability is a legal concept that property owners have a duty to protect visitors from unsafe conditions. If they don't fix a safety hazard or offer an adequate warning, an injured party can sue.
Probate
Probate courts make decisions about wills and estates. If you feel the decision in the probate court was wrong, we can help you appeal in a higher court that has the same jurisdiction in which the will was made.
Real Estate
We also offer representation to clients in appeals of real estate cases. We know that real estate disputes are some of the most challenging cases, and we provide aggressive representation for clients looking to appeal cases involving property and real estate rights.
Contact a Riverside Appellate Litigation Attorney Today
If you take a civil lawsuit to a trial court and get an unfavorable ruling, you still have legal chances to pursue your claim. You can use the appellate law process to challenge an unfavorable decision. An experienced Riverside appellate litigation attorney can help you determine if you have grounds for an appeal and advise you on possible strategies.
Don't fight alone, let Gusdorff Law guide you through the appeal procedure, reveal other facts in support of your case, and represent you in the court of appeal. Do you intend to appeal a judgment or defend a judgement? You need a skilled and experienced appellate lawyer from Gusdorff Law on your side. Call us at 818-877-4515 today to schedule a free assessment of your case.