Real estate appeals require meticulous attention to detail and have to be handled by seasoned professionals.
This is a segment of the law that is going to require appropriate care every step of the way. This includes analyzing what your needs are and then coming up with a legal strategy that's resolute.
If you are looking to find a San Diego real estate appeals lawyers with extensive expertise, then you will want to put Gusdorff Law right at the top of the list. We are a world-class appellate litigation firm that is going to be focused on delivering premium results as soon as the process begins.
To get started with Gusdorff Law on, give us a call at 818-877-4515.
Can I File an Appeal for My Real Estate Case Verdict?
You can file an appeal for your real estate verdict.
Each situation is going to be unique but you will have to go through the steps associated with an appeal. This includes putting it in front of the court with the help of an appeal application. This is imperative when it comes to doing things correctly and not cutting corners.
When it is time to file an appeal, we are going to be there to help out. This includes ironing out the details, understanding what your case needs, and then finding a fair solution that will lead to a positive verdict.
We understand this is a situation that has to be handled with a lot of care and we will guide you every step of the way. For us, it is important to provide a legal solution that is competent, fair, and all-encompassing.
With this in mind, Gusdorff Law is the best fit for you because our goal is going to remain to analyze everything. We will put forward a legal solution that is compliant and ideal for your situation.
What Are Some of the Grounds for Filing an Appeal?
One of the most important details to think about is the basis of your appeal.
Some of the grounds on an appeal can include property tax issues, appraisals, title insurance, and more. It is important to speak to one of our trusted lawyers to get a gist of what you are going to have available to you. We realize this is a challenging time and one where you are going to want to go through the details one by one.
With our help, you are going to have a sturdy foundation to build your real estate appeal. The team at Gusdorff Law has done this before and will know how to tackle the issue to yield good results.
If you are someone that is thinking about fighting the case legally and want to put forward a robust appeal, it makes sense to go with our law firm. We are a heralded name in the region and one that is going to be committed to the task.
For more on what we can do for you and on what basis you can file a real estate appeal, please take the time to reach out to Gusdorff Law at 818-877-4515.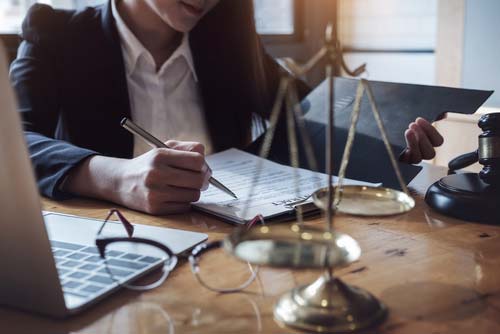 What Should I Expect During the Appeal Process?
The appeal process is going to be a rigorous one and you will want to have a legal professional by your side throughout the proceedings.
In general, you are going to start by accumulating the verdict's facts and going through them with a real estate lawyer. This will help process what happened and what the basis was for the initial verdict.
From this point forward, you are going to have to file the appeal through the court. A qualified lawyer at Gusdorff Law can do this for you making sure it works out right the first time around. Do not cut corners and end up making mistakes, which will only delay the process further.
With our help, we are going to help iron out each step and make sure it works as intended. This is the charm of working with an accredited law firm that has been doing this for a long time and is not going to waste your time as a client.
Let us help and know you are in great hands.
Why Should I Hire Gusdorff Law to File My Real Estate Appeal?
The one detail you are going to want to think about will be the benefits of going with our law firm at Gusdorff Law.
What makes us a good fit for you and your appeal?
We have years of experience and are an accredited team that is local to the area. This is ideal because real estate laws are unique in California and have to be understood by legal professionals to lead to a positive verdict.
Going through the appeals process is challenging and you are going to have loads of questions. This is normal and that is where we are going to come in.
We will go through each step, help guide you through the legal process, and make sure the appeal goes through properly. This is why you want to go with a real estate lawyer that is the real deal.
Contact a San Diego Real Estate Appeals Lawyer Today
At Gusdorff Law, we realize it is important to pursue a solution that is in line with what you are after as a client.
Our trained specialists have years of qualified experience and will take the time to provide a solution that is fine-tuned to your requirements. This includes going through a rigorous quality control process to better understand what you need and how we are helping you every step of the way.
If you are looking to file a real estate appeal and want it done the right way then contacting our team at Gusdorff Law is a must.
We are more than happy to get started with the consultation once you give us a call at 818-877-4515. We will go through each detail and customize the legal process to ensure you are fully satisfied with the value you are getting.